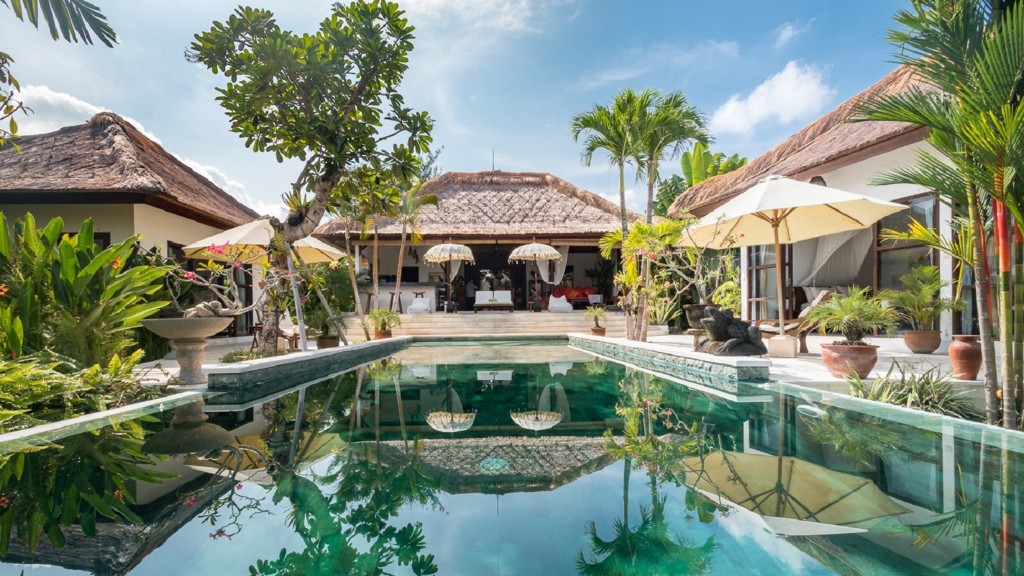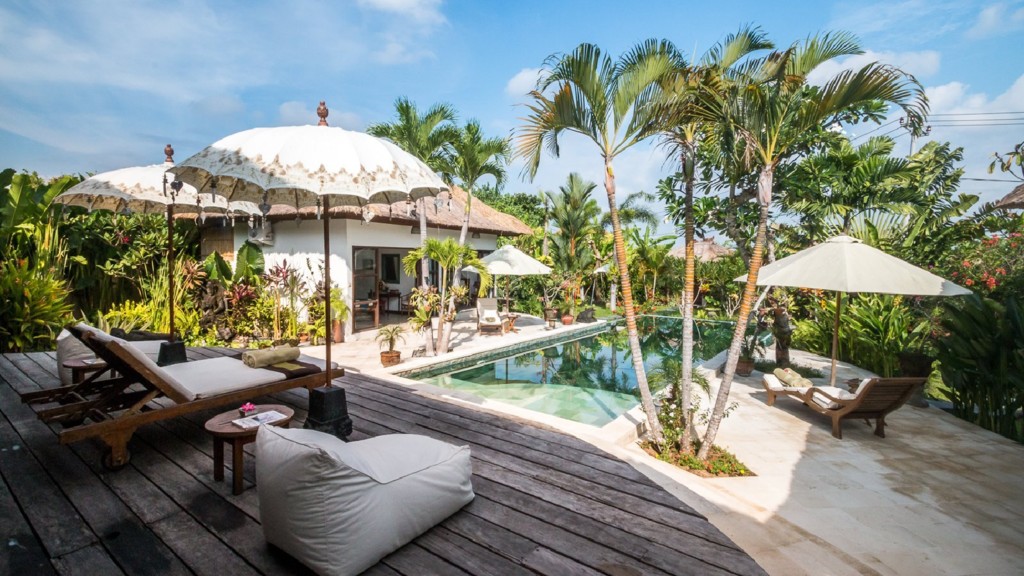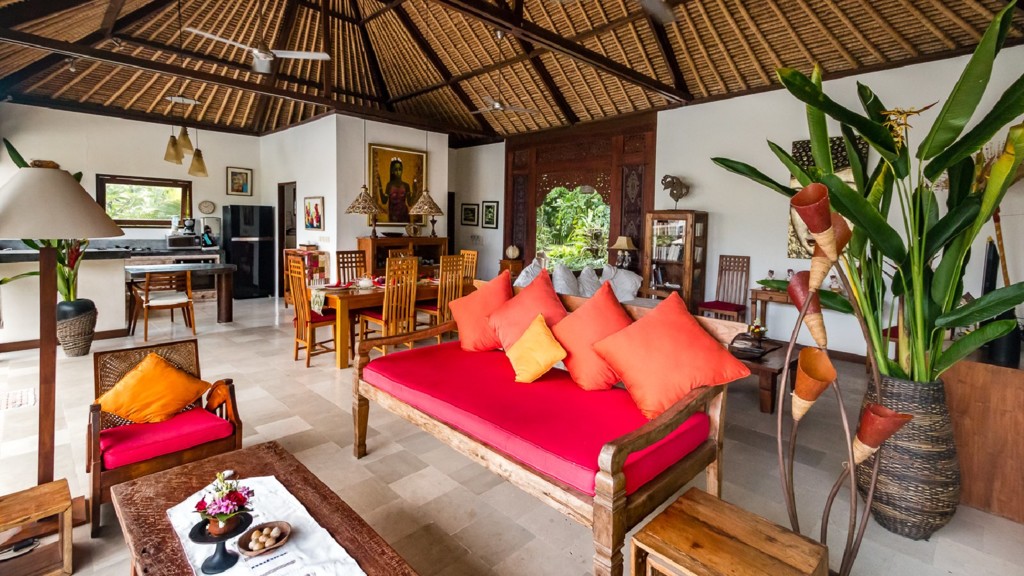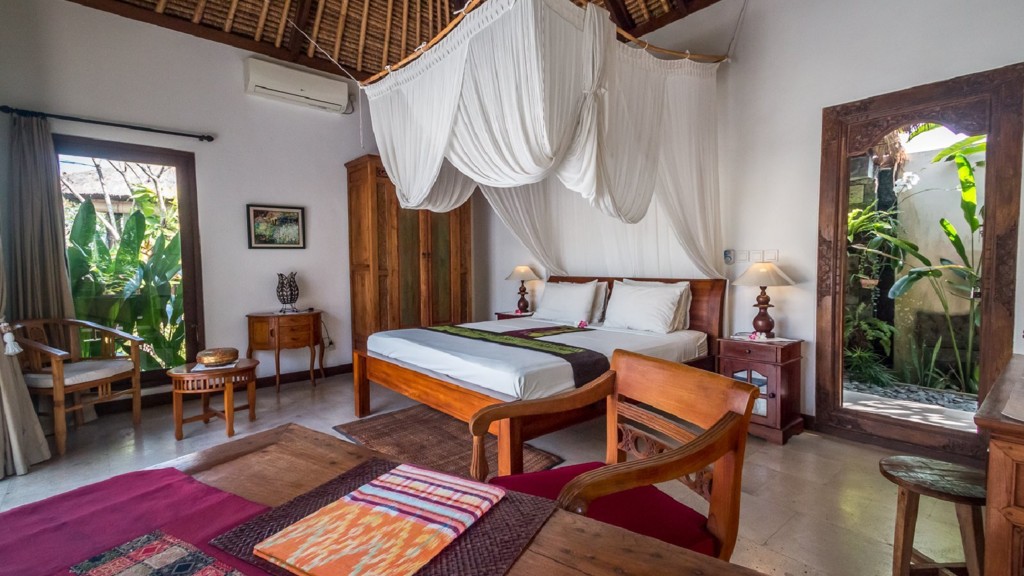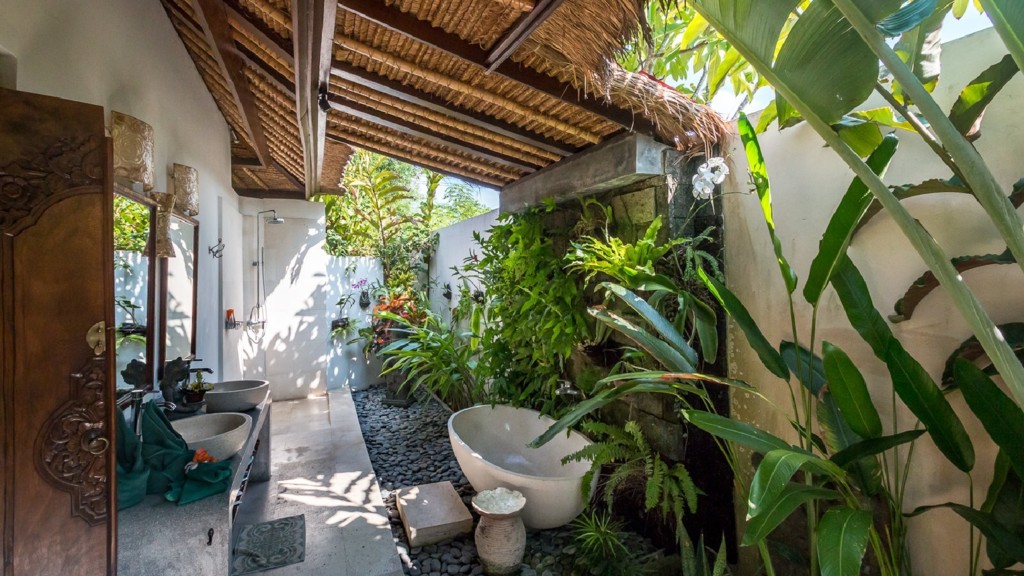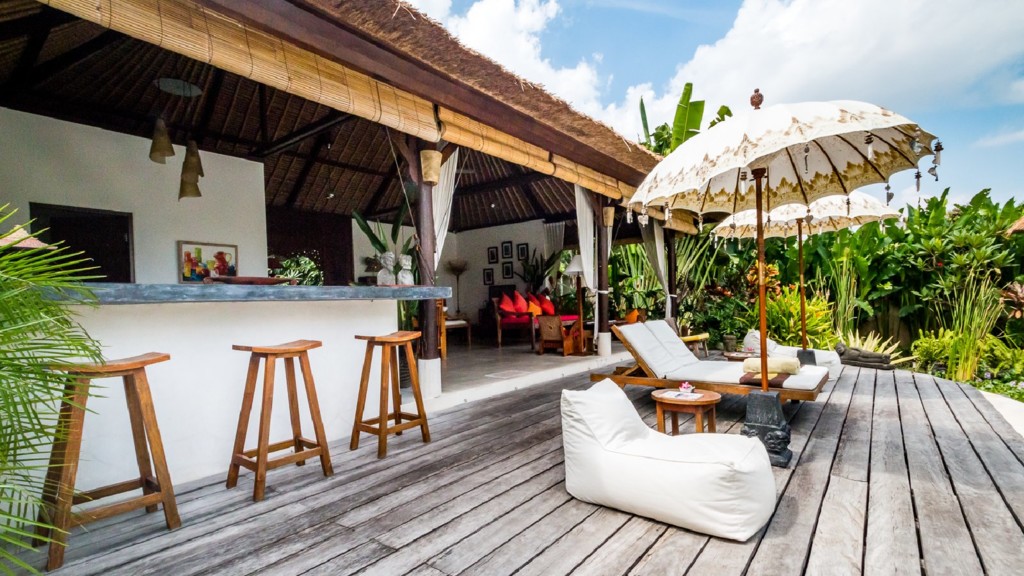 About Villa Tibu Indah
Located in the heart of Canggu's open rice fields, Villa Tibu Indah is a charming 3 bedroom villa for guests seeking peace and serenity. Tucked down a driveway, this holiday gem is made up of 3 pavilions with a sparkling blue pool at the center of the villa making it the perfect choice for families and friends. From here, you are only a 10 minutes drive from the famous surfing waves at Echo Beach and 30 minute drive from the iconic temple of Tanah Lot.
Bedrooms
Villa Tibu Indah houses three beautiful and spacious en-suite bedrooms, including a master bedroom in its own standalone pavilion. All three bedrooms are tastefully decorated with white nets descending from the ceiling, lulling you into a deep sleep at the end of each wonderful day. Each of the bedrooms are located around the 12 meter swimming pool and are equipped with air conditioning, writing desks and adjoining outdoor bathrooms with rain showers. The master suite enjoys a freestanding bathtub and double basins amidst a green, tropical garden area.
Living Area
The open plan living and dining area facing the pool offers a relaxed and comfortable environment for guests to get together. Watch the sunset from the elevated wooden deck on one of the sun loungers or from the wooden sofa with bright orange cushions while enjoying a glass of wine over relaxed conversation with your friends. There is a dining table for 6 people for cosy dinners next to the fully equipped kitchen. After your meal, gather on the white colored wooden sofa with matching cushions to watching a movie on the flat screen TV with DVD player.
Outdoor & Pool Area
The sparkling 12 meter swimming pool is surrounded by lush tropical greens and four comfy sunbeds either located on the elevated wooden deck or in front of each rooms. You can soak up Bali's sunshine on one of the beanbags or sunbeds and even take a little shaded siesta in gazebo with traditional alang-alang roof at the end of the pool.
Service & Staff
In need of a little extra pampering? Bagus, the wonderful villa manager of Tibu Indah, will be more than happy to arrange spa treatments for you at any time in the open-air gazebo at the end of the garden with 2 massage table for your own personal use.
And if you wish to get out and explore the surrounding area, the staff will be happy to organise you a car and driver for the day.
Around Villa Tibu Indah
Villa Tibu Indah is surrounded by authentic Balinese rice fields and unspoiled tropical beauty just 15 minutes drive away from the trendy cafes, bars and surf beaches of Canggu. The buzzing Seminyak is just a 20 minute drive away with its designer shops, vibrant night-life and famous restaurants.
Click here to see all 25 villa pictures
Far enough from hectic central Canggu and close enough for shopping, Villa Tibuh Indah is at the perfect place! Bagus holds the place tied and welcoming!
Hello, I highly recommend Villa Tibu Indah. It's a little paradise ideal to relax with the family. Everything is designed with elegance. The four bedrooms are spacious with all outdoor bathroom. The pool blends into a green and flowery decor. The villa staff is great! Breakfast always carefully prepared all thank to Mr.Bagus the villa manager. He has managed our request from A to Z during our stay and our requests have been satisfied. We had a pleasant stay in this Balinese villa where beauty and comfort all together. I will come back with pleasure!
The Villa and the staff were outstanding. The garden looked magical, a silent and comfortable place out of the time. 3 separate rooms with all comforts and private bathrooms.
Our party of five had a fabulous time at Villa Tibu Indah. The property was beautiful and spacious, and we loved relaxing in the open air living area. Villa manager Pak Bagus made an excellent breakfast every morning and was very helpful - from arranging in-villa massages to a personal chef for dinner. We left very feeling relaxed and hope to come back soon!
The villa is really amazing and the staff really kind and here anytime you need, we arrived late at night and left very early, and we had both a warm welcome and goodbyes. I'd highly recommend Villa Tibu Indah for a family trip.
Dearest Bagus, Thank you so much for your kind hospitality and your were like a family friend to us throughout our stay at the villa!! The facilities - swimming pool, halls and kitchen were great, and we always look forward to heart-warming home-cooked breakfasts. Especially the Nasi Goreng and Mee Soto by you! The whole staff team was fantastic and our whole family really enjoyed ourselves. Will be back for sure! :) Yours Sincerely, Sam & Janelle Kelly, Vanessa & Ethan
This was our first stay at the Villa and we have enjoyed ourselves tremendously. Everything was exactly like it was on the website pictures and we expecialy enjoyed the lovely garden. Our son couldn't get enough of the pool and the house staff were very helpful and kind making us feel at home instantly and made the house pretty with flowers every day. It was easy to do laundry and order food. Although we had rain and showers almost evey day, but we still enjoyed our stay.
In the middle of rice fields. Welcome in "Balinese style": welcome drink, refreshing towel, flowers and smiles all over. spacious villa, pleasant, clean room, property held. Welcoming pool (because the sea is far from 3 miles). shopping centers and nightlife at 20 minutes. Staff attentive to our every desire.
Just loved the villa! What a beautiful place.. Bagus was very helpful and friendly. I loved having our own pool. The bed was very comfortable and I loved the outdoor washroom + shower. We had a wonderful time with our children and grand children! We highly recommend this place to anyone.
It has been an amazing experience to stay in Villa Tibu Indah for two weeks! The villa is a real piece of heaven on earth, with its luxurious garden and its delicious pool. The beautiful architecture and decoration, as well as the soul of the villa create a fabulous, very peaceful ambiance. The Balinese staff is fantastic, very accomodating and discret. This villa is just paradise and we plan to stay there again very soon!!
We had a wonderful stay here at the villa! It was so relaxing and peaceful. Pak Bagus and the staff were extremely friendly and stayed on top of everything! We felt welcomed and at home during our stay. We'll especially miss the fresh fruit and delicious food. The pool was beautiful and very refreshing. We would love to come back and stay again!
Here are our availabilities for the next few months:
Minimum stay
2 Rooms
3 Rooms
from 14/04/2017 to 22/04/2017
High season
5 nights

USD $

220

USD $

220

from 22/04/2017 to 01/07/2017
Low season
2 nights

USD $

180

USD $

190

from 01/07/2017 to 01/09/2017
High season
5 nights

USD $

220

USD $

220

from 01/09/2017 to 20/12/2017
Low season
2 nights

USD $

180

USD $

190

from 20/12/2017 to 11/01/2018
Peak season
7 nights

USD $

230

USD $

230

from 11/01/2018 to 01/07/2018
Low season
2 nights

USD $

180

USD $

190